OCTOBER, 2019—FINAL MAILING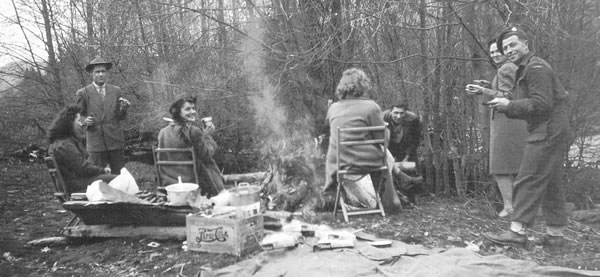 Applegate, Oregon, post-WWII, 1946
Reading people's stories for almost three decades—some 700,000 stories—has been a tremendous honor. We know how much goes into writing, especially tackling those stories that are deeply significant to the writer, and we thank you for sharing them with us.
We've actively championed new writers from the start, and in this, our final issue, over 1/3 of the stories are their authors' first publications!
This is one long bulletin! To see Free Resources for Writers, and which libraries have complete archive sets of Glimmer Train, please keep reading!
Essays in this issue:

R. Cross: The thing about people, and thus characters, is that there's so much more than meets the eye. That's what stories do that paintings don't: depict the complexities that come when conscious beings move through time and space with or against one another. (more)

Alexandra Chang: "How wonderful that you've become an author," a family friend told me earlier this year. My agents had recently sold my first novel and story collection, and I was in the process (still am) of seeing myself as an author of books. (more)

Perri Klass: I am deeply and profoundly aware that the stories people tell me, the human drama they allow me to witness, that's all happening because I'm a doctor and I'm there to help. That's why they are willing to answer even difficult questions, that's why… (more)

Bret Anthony Johnston: If we let all of this madness, all of this sadness, keep us from participating in the co-creation of stories—as readers, as writers, as both—then we are inviting erasure, surrendering our history and our future, ceding the holy act of witness… (more)
In our last (and gigantic—400-page!) issue of Glimmer Train Stories, #106, you'll find the final nineteen stories. Our shared humanity is reflected in every one.

The authors:

Stanley Delgado
Rachael Uwada Clifford
Marian Palaia
Douglas Kiklowicz
Erika Krouse
Victoria Alejandra Garayalde
Arthur Russell
Robin Halevy
Peter Parsons
Christa Romanosky
Sindya Bhanoo
Alex Stein
Karen Malley
Ed Allen
Emily Lackey
Ashley Alliano
Aleyna Rentz
Kevin Canty
Arthur Klepchukov
In our final issue of Writers Ask, #85, you'll hear from dozens of accomplished writers and teachers on these topics:
Point of View • Voice • Beginnings • Endings • Writing Programs • Moving on to the Next Piece

You'll also read essays by Siamak Vossoughi and Karen Brown.

If diving deep into the art and craft of fiction writing appeals to you, Writers Ask is a gem.
Other info:
We will be keeping Free Resources for Writers, which include many essays by and for writers, on the website for at least a year.
We will never rent, sell, or otherwise share your information.
Every issue of both Glimmer Train and Writers Ask is preserved at the Library of Congress, and the following libraries have archived complete sets of Glimmer Train Stories:
Boston Public Library
British Library
Brown University
Columbia University
Cornell University
Harvard University
Johns Hopkins
Mills College
Multnomah County Library
New York Public Library
Princeton University
San Francisco Public Library
Seattle Public Library
Smith College

Stanford University
Syracuse University
Trinity College in Dublin
Tulane University
University of Alberta
University of California in Berkeley
University of California in Irvine
University of Iowa
University of Michigan in Ann Arbor
University of North Carolina in Charlotte
University of Pennsylvania
University of Texas in Austin
University of Virginia in Charlottesville
Yale University

Our thanks to all the writers, readers, and artists without whom Glimmer Train would never have flourished.
Signing off with fond regards and best wishes,